Dear readers and followers,
Could life survive in the harshness of space? What would it mean to send plants from Earth beyond, well, the Earth? According to multiple media reports, a Japanese artist recently explored these questions by launching a bonsai tree and other plant arrangements high into the atmosphere via high-altitude balloon. The Exobiotanica project saw a bonsai tree launched to 30,000 meters.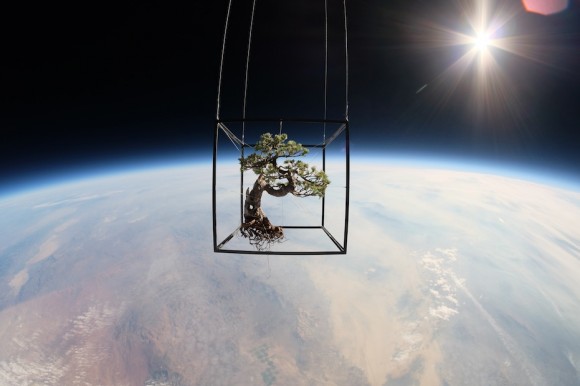 Credit image: azumamakoto.com
According to the Huffington Post, artist Azuma Makoto and his team sent the arrangements aloft from Black Rock Desert, Nevada (where the Burning Man festival is held). He did several practice runs under low-temperature conditions, checking out the camera angles and other parameters. The highest altitude was reportedly 30,000 meters. While that's technically not high enough for space, at that altitude the air is thin enough that you can see black sky instead of blue.
More picture of the project
Contact me if you have any specific questions or to correct some typo error in the articles.
You can support us with Flattr